Presented by the Art & Art History Department
Zoom ID: 
https://SonomaState.zoom.us/j/89180403731
Meeting ID: 891 8040 3731
Wednesdays 12:00 p.m. - 12:55 p.m.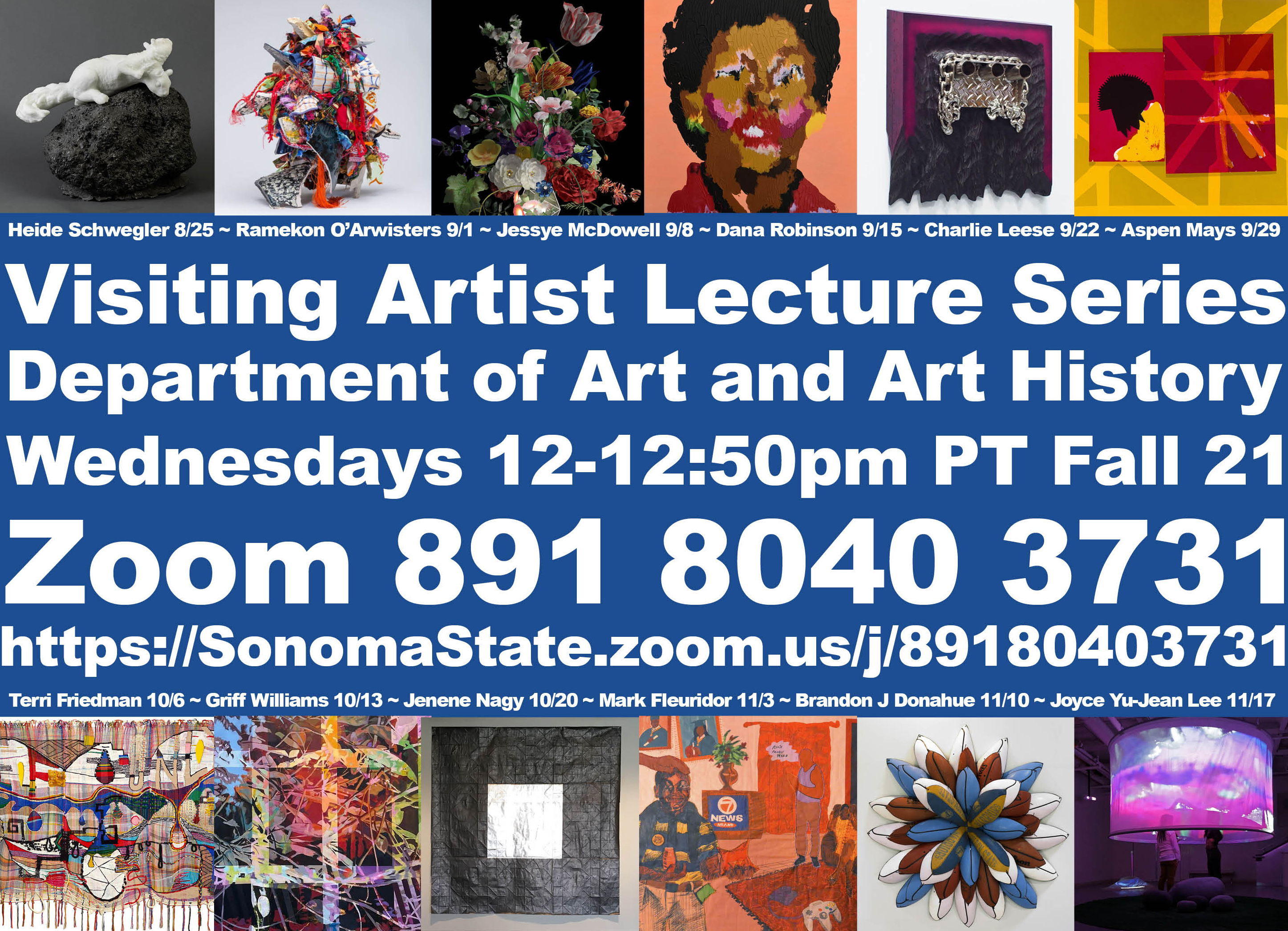 All Lectures are Free and Open to All

The Visiting Artists Lecture Series provides our students with valuable insights and exposure to art professionals and their work. The Visiting Artist Lecture Series is supported in part through grants from the Instructionally Related Activities Fund of Sonoma State University. Thank you.
Fall 2021 Schedule
August 25
Heidi Schwegler
https://heidischwegler.com/
September 1
Ramekon O'Arwisters 
https://ramekon.com/ 
September 8 
Jessye McDowell
https://jessyemcdowell.net/
September 15
Dana Robinson
https://danarobinsonstudio.com/
September 22
Charlie Leese
http://www.charlieleese.com/
September 29 
Aspen Mays 
https://www.aspenmays.com/
October 6
Terri Friedman 
http://www.terrifriedman.com/
October 13
Griff Williams 
https://www.griffwilliams.com/
October 20
Jenene Nagy
https://jenenenagy.com/
November 3
Mark Fleuridor
https://markfleuridor.com
November 10
Brandon J Donahue
https://brandonjaquezdonahue.com/
November 17
Joyce Yu-Jean Lee
https://joyceyujeanlee.com/
December 01
Ayana Evans
https://www.ayanaevans.com/