Jennifer Roberson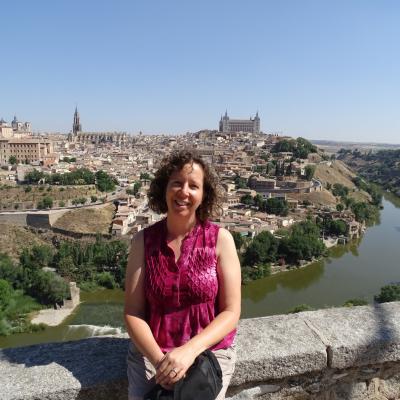 Associate Professor of Art History
Contact
Office
Art 103
Courses Taught
The Art of Al-Andalus (Islamic Spain), Islamic Art: The Age of Empire, Islamic Art Survey, The Medieval Mediterranean, Introduction to Art History (Prehistoric to Medieval), Introduction to Art History (Renaissance to Contemporary), Asian Art: South & Southeast Asia, Asian Art: China & Japan, Seminar on Asian Art, Greek Art, Roman Art, Humanities Freshman Learning Community (Cave Paintings to Picasso) Baghdad in Its Golden Age, Constantinople and the Byzantine Millennium, Roman Republic, Charlemagne, Norman Sicily: Art and Power in Palermo, Wanderlust: Viking Raiders, Traders, Neighbors, Vienna on the Verge 1890-1918, The Celts: History, Art and Legend, Dawn of the Italian Renaissance (1275-1400), Norman Sicily, Renaissance Borgia Dynasty, Toledo: Multicultural Challenges of Medieval Spain, The Legacy of Genghis Khan, Crete: Dawn of European Civilization, Power & Glory of China's Ming Dynasty, Terracotta Warriors of the Qin Dynasty, Bronze Age Greece
Hobbies/Fun Fact
x-c skiing
Education
B.A. Bowdoin College, Brunswick, ME 1993 Art History & Archaeology
M.A. University of Minnesota 1998 Art History with concentrations in Islamic Art and Ancient Art
Ph.D. University of Minnesota 2004 Art History with concentrations in Islamic Art History and Asian Art
Degrees
Ph.D, M.A., B.A.
Selected Publications & Presentations
"From Dictatorship to Democracy: Cordoba's Islamic Monuments in the Twentieth Century." In Rethinking Place in South Asian and Islamic Art, 1500–present. Eds. Deborah S. Hutton and Rebecca M. Brown. New York: Routledge, 2017.
Precis, "Northern California Art Historians 'Old Spaces, New Narratives: Islamic Architecture in the 20th and 21st Centuries,' College Art Association 103rd Annual Conference, New York, NY, Feb. 11-14, 015." International Journal of Islamic Architecture 5/2 (2016), 429-432. 
"The Changing Face of Morocco Under King Hassan II." Mediterranean Studies 22/1 (2014): 57-87.