Letha Ch'ien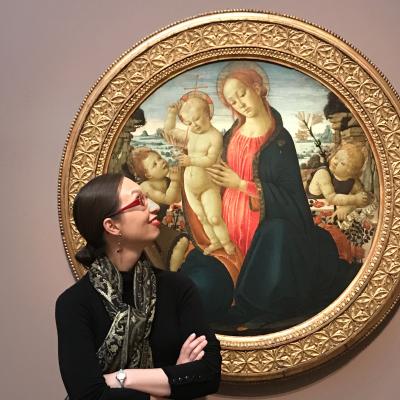 Associate Professor of Art History
Contact
Office
Art 105

Available by appointment only.

COURSES
Art History 160A/B (FLC): Art Here, There, Then, Now
Art History 211: Intro to Art History Global Ren-Modern 
Art History 300: Graded Assistant Projects
Art History 442: Post-Millennial Issues in Medieval Art
Art History 442: The Self-Conscious Italian Renaissance
Art History 444: Northern Renaissance
Art History 450: Baroque: Object to Artwork
Art History 480: Site Specific: Art, Place, and Space
Art History 480: Race and European Art
Art History 490: Proseminar in Visual Culture
Art History 492: Senior Honors Thesis
FUTURE ENDEAVORS 

Book: Polytopos: Venice, Empire, Art
About
Letha Ch'ien is an associate professor of medieval and Renaissance art history. She teaches late medieval and early modern art of Europe, race and European art, space and geoaesthetics, and the proseminar in visual art and culture. Her research focuses on identity, ethnicity, and race in late medieval and early modern Venice. In addition to her scholarly activities, Dr. Ch'ien publishes art criticism on a wide range of topics.

She has published on ekphrasis, multi-ethnic pictorial practice, and race in European art in scholarly presses. Dr. Ch'ien has presented research widely at special topic symposia internationally and at the major conferences in her field including the Medieval Association of the Pacific, Renaissance Society of America, Sixteenth Century Society, SECAC, Pacific Northwest Renaissance Conference, Renaissance Conference of Southern California, and the College Art Association. 
Dr. Ch'ien's research has been supported by the Gladys Krieble Delmas Foundation, the Fulbright Program, and the Arizona Center for Medieval and Renaissance Studies. She also has been a fellow at the Townsend Center for the Humanities. Professional training includes an NEH summer seminar and paleographic work at the Medici Archive Project and at the Newberry Library.
Public scholarship is of great interest to Dr. Ch'ien. She writes regularly for the San Francisco Chronicle and has contributed to Smarthistory, Hyperallergic, The Sundial, Artsy, and News in Context. Public speaking engagements have included the Berkeley Art Museum, the Arizona Center for Medieval and Renaissance Art.
Supporting students, especially former foster youth, in higher education is of personal importance to Dr. Ch'ien. She has served as a McNair Scholar advisor, a tutor with B2B at Laney College in Oakland, and as a mentor with Guardian Scholars at UC Davis and Berkeley Hope Scholars at UC Berkeley. She enjoys overseeing honors theses and master's theses that have covered topics ranging from the relation of colonialism and environment in eighteenth-century fête galante paintings to early modern maps to feminist investigations of art criticism and issues of authenticity in medieval restoration projects.
Education
PhD, University of California, Berkeley, History of Art
BA, San José State University, Art History
Degrees
PhD, BA
Selected Publications & Presentations

SELECTED SCHOLARLY PUBLICATIONS

"Finding, Stealing, Translating: the Subject(s) of Tintoretto's Brera Scuola Grande di San Marco Istoria" in Ekphrastic Image-making in the Early Modern Europe and the Americas. Edited by Walter S. Melion and Arthur J. DiFuria, Brill, 2022.
https://brill.com/view/book/edcoll/9789004462069/BP000028.xml
"Polytopos: Multi-ethnic Practice in Venetian Imagery," in Cultures and Practices of Coexistence in the Multi-ethnic Cities of the Mediterranean World, 13th – 18th Centuries, Multi-Ethnic Cities of the Mediterranean World. Edited by Marco Folin, Antonio Musarra. New York: Routledge, 2020. https://www.taylorfrancis.com/chapters/edit/10.4324/9781003089339-9/polytopos-early-modern-venetian-imagery-letha-ch-ien
SELECTED PUBLIC SCHOLARSHIP
Chapter 57: Responding to the Early Modern European Tradition in Rethinking Art History, Smarthistory: The Center for Public Art History 
https://smarthistory.org/textbooks/responding-to-the-early-modern-european-tradition/
"White Columns, White Narratives" The Sundial (Arizona Center for Medieval and Renaissance Studies), September 8, 2021  https://medium.com/the-sundial-acmrs/white-columns-white-narratives-fa179bce71d9
"What can Bay Area museums do to avoid becoming unwitting vehicles of racism?," San Francisco Chronicle, October 1, 2020  https://datebook.sfchronicle.com/art-exhibits/what-can-bay-area-museums-do-to-avoid-becoming-unwitting-vehicles-of-racism

"Bay Area professor confronts the racist aspects of European art history," San Francisco Chronicle, October 1, 2020  https://datebook.sfchronicle.com/art-exhibits/sonoma-art-professor-tackles-race 
SELECTED REVIEWS
"Muppet master Frank Oz shares haunting puppets from his family's past" San Francisco Chronicle August 5, 2022
https://datebook.sfchronicle.com/art-exhibits/muppet-master-frank-oz-shares-haunting-puppets-from-his-familys-past

"Critical and hopeful in equal measure': the fearless art of Faith Ringgold" San Francisco Chronicle July 16, 2022 
https://datebook.sfchronicle.com/art-exhibits/critical-and-hopeful-in-equal-measure-the-fearless-art-of-faith-ringgold

"S.F. artist Irene Poon's photographs capture small, beautiful moments in Chinatown and elsewhere" San Francisco Chronicle July 1, 2022
https://datebook.sfchronicle.com/art-exhibits/s-f-artist-irene-poons-photographs-capture-small-beautiful-moments-in-chinatown-and-elsewhere

"S.F. artist Carlos Villa was told there was no such thing as 'Filipino art.' So he made history" San Francisco Chronicle June 6, 2022
https://datebook.sfchronicle.com/art-exhibits/s-f-artist-carlos-villa-was-told-there-was-no-such-thing-as-filipino-art-so-he-made-history

"At 88, a San Francisco artist finally gets her first solo museum exhibition" San Francisco Chronicle May 6, 2022
https://datebook.sfchronicle.com/art-exhibits/at-88-s-f-artist-jean-conner-finally-gets-her-first-solo-museum-exhibition

"De Young's Jules Tavernier exhibition includes the perspective of the Pomo people he painted" San Francisco Chronicle December 28, 2021
https://datebook.sfchronicle.com/art-exhibits/review-de-youngs-jules-tavernier-exhibition-includes-perspective-of-the-pomo-people-he-painted

"Amoako Boafo's soulful portraits stand up to the hype in his first museum show," San Francisco Chronicle October 29, 2021
https://datebook.sfchronicle.com/art-exhibits/artist-amoako-boafos-soulful-portraits-stand-up-to-all-the-hype-in-his-first-museum-show