This Thursday, September 29th, 12:00 - 1:00 PM
University Art Gallery, SSU
Award-winning photojournalist Erik Castro, whose large-scale photographs are featured in the current exhibition, Farmworkers: Photographs, Prints, Paintings, will visit the University Art Gallery to talk about his work Thursday, September 29, 12:00-1:00.
Castro is an award-winning photojournalist based in Santa Rosa, California; his print media clients include the San Francisco Chronicle, the Press Democrat, Sonoma Magazine, and the Seattle Weekly. Castro has a long-standing interest in photography's power to humanize and bring visibility to complex social issues. His Harvester series focuses on the workers of Sonoma County's vineyards: each image is a portrait of a grape harvest worker who has agreed to be photographed out in the field, in the moments after they complete a day's shift.
 
Seating is limited, so come early and see the show! 
ADMISSION IS FREE-ALL ARE WELCOME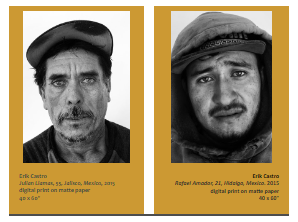 .